US Postal Service delivers bad news: No Saturday mail delivery?
The US postmaster general seeks big changes to the way the US Postal Service operates, including ending Saturday mail delivery. The USPS, grappling with the effects of the recession and the rise of e-mail and online bill paying, could lose up to $7 billion in 2010.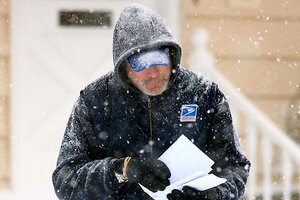 Jacqueline Larma/AP/File
Is the Postal Service about to vanish into the dusts of time with the Pony Express?
Probably not. The US mail dates back to the nation's founding and still handles 177 billion letters, catalogs, bills, and packages every year. The Pony Express existed for only about 18 months in the 1860s.
But in today's FedEx and email era, the Postal Service's volume has been declining rapidly. Now its leaders are increasing the pressure on Congress to allow big changes in how the US mail is handled – including the ending of Saturday deliveries.
"What we wanted to do in the Postal Service is to be realistic that this is occurring," Postmaster General John Potter told reporters Monday.
On Tuesday, Mr. Potter is overseeing a conference on the service's future. Among the changes he is proposing are an end to the old six-day mail delivery model and more flexibility in setting delivery schedules, prices, and labor costs.
Postal leaders pleaded for some of these moves last year, but they have yet to persuade lawmakers to go along.
The problem is that there is more competition than ever today to carry the nation's stuff back and forth between its people. Last year's 177 billion-piece mail volume contrasts with the 213 billion pieces of mail carried by the Postal Service as recently as 2006.
And the mail won't pick up again when the economy rebounds. By 2020, mail volume will be 150 billion pieces of mail annually, according to Postal Service projections.
---