White House declassifies parts of US cybersecurity plan
At the RSA security conference Tuesday, the White House declassified cybersecurity plan when Obama administration cybersecurity czar Howard Schmidt revealed 12 broad elements of the 2008 Comprehensive National Cybersecurity Initiative.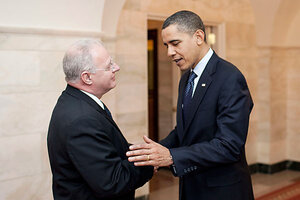 Lawrence Jackson/Newscom/File
On Tuesday, the White House declassified cybersecurity somewhat when cybersecurity czar Howard Schmidt pulled back the curtain, at least a bit, on the Bush administration's secretive plan to defend the nation's computer networks.

At the RSA Conference, a security industry event, in San Francisco Tuesday, Mr. Schmidt announced that the Obama administration was partially declassifying the 2008 Comprehensive National Cybersecurity Initiative (CNCI) in the name of transparency.
"Transparency is particularly vital in areas, such as the CNCI, where there have been legitimate questions about sensitive topics like the role of the intelligence community in cybersecurity," said Schmidt in a statement posted on the White House blog.
The declassified portion of the CNCI includes descriptions of 12 broad initiatives of the CNCI, but few details.
According to the Wired Threat Level blog, "the most most controversial part of the declassified plan is a discussion of a need for the government to define its role in protecting private critical infrastructure networks" such as telecoms, the electric grid, Internet providers, and banking networks.
"The Department of Homeland Security and its private-sector partners have developed a plan of shared action" in an effort to confront the threats facing nongovernment computer networks, according to the declassified plan.
---
Follow Stories Like This
Get the Monitor stories you care about delivered to your inbox.