New at L.A. County Jail: inmates serve half sentences
The budget crunch has forced the L.A. County Sheriff's Department to release nonviolent offenders from the county jail after serving just 50 percent of their sentences, rather than 80 percent, which used to be the norm.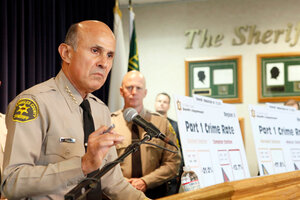 Nick Ut/AP
"I already didn't feel safe in my own neighborhood," says lifetime Sherman Oaks resident Ron Sorrentino. "Now this … it's not good."
L.A. County Sheriff Lee Baca released 343 nonviolent offenders from the county jail system this week, well before they had served their full sentences. The Sheriff's Department says that budget cuts have forced changes to a longtime policy requiring inmates to serve at least 80 percent of their time before release. Now, those jailed for crimes such as check kiting, petty theft, and drunk driving will serve just 50 percent of their sentences.
Law enforcement is crying out louder than citizens like Sorrentino, analysts say.
"Cops know that many people serving time for nonviolent offenses may also have committed violent crimes for which they did not get caught. And even the nonviolent offenses are worrisome," says Jack Pitney, political scientist at Claremont McKenna College. "Petty theft may not be so petty if the victim is a poor person. Drunk driving can kill people. More important, early release undermines deterrence."
---
Follow Stories Like This
Get the Monitor stories you care about delivered to your inbox.