Will Washington fund a Los Angeles subway expansion?
A planned Los Angeles subway expansion could cut traffic and greenhouse emissions and give jobs a boost, but Mayor Villaraigosa wants it now, instead of waiting 30 years. He is in Washington Thursday seeking funds to accelerate construction of the 'Subway to the Sea.'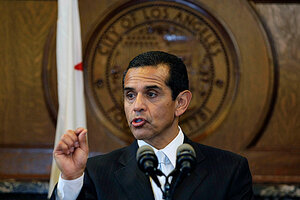 Damian Dovarganes/AP
Los Angeles Mayor Antonio Villaraigosa heads to Capitol Hill Thursday in search of federal transportation funds that, some say, could profoundly change the nature of America's most air-polluted and car-dependent city. With L.A. facing $250 million in red ink, any success could also help produce jobs to revive the local economy and, eventually, reduce greenhouse gases that will help the state cut its carbon emissions.
Voters approved Measure R here in 2008, accepting a half-cent sales tax increase for 30 years. It will generate $40 billion for 12 projects that will add rail lines north-south, east, and west, connecting neighborhoods heretofore linked only by freeways.
"The public clearly wants our transportation system fixed," says Robert Stern, president of the nonpartisan Center for Governmental Studies (CGS). "Surprisingly, over two thirds of L.A. voters voted to increase their sales tax to pay to end gridlock."
Mayor Villaraigosa is now trying to accelerate the timeline for such projects from 30 years to 10 by asking the federal government for a bridge loan to get started. He's set to speak before a Senate Environment and Public Works Committee hearing on Thursday. Besides accelerating the start and finish dates of several projects, the loan would save millions and create between 150,000 to 200,000 jobs, according to Richard Katz, board member of the Los Angeles County Metropolitan Transportation Authority.
---