Chicago may suspend enforcement of its landscaping ordinance
Chicago's City Council considers suspending enforcement of the city's landscaping ordinance, as small-business owners complain that compliance is too expensive in a recession.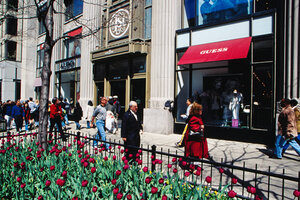 NEWSCOM
A controversial landscaping ordinance may be put on hiatus due to complaints that it goes too far in forcing cleanliness on private property and that its fines are excessive for small-business owners already trying to make ends meet in a recession.
On Wednesday, Alderman Eugene Schulter (47th Ward), a cosponsor of the original 1999 zoning and landscaping ordinance, introduced a measure that would impose a moratorium on its enforcement for two years.
The city has been aggressive in enforcing the ordinance, which requires business owners to enhance the visual appeal of their property at their own expense and to erect black metal fencing.
Many small-businesses owners say they've been fined for violations of which they were not aware. The fines can range from $500 to $1,000 each day a violation exists, according to the Chicago Department of Law. Some violations can take years to correct.
The ordinance is in line with Mayor Richard M. Daley's continuing push to beautify public spaces, says DePaul University political science professor Larry Bennett, the author "The Third City: Chicago and American Urbanism."
---