Al Qaeda websites present growing threat, FBI's Mueller warns
Al Qaeda, once limited to areas surrounding Afghanistan, may be using the Internet to recruit and radicalize, FBI Director Robert Mueller testified Wednesday before a House Appropriations subcommittee.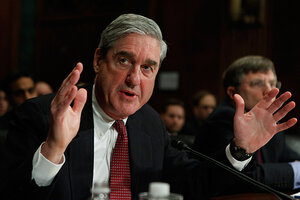 Manuel Balce Ceneta/AP
The United States faces an expanding array of Al Qaeda-related threats that extend far beyond the lawless regions of southwest Asia and into the US itself via radical Islamist websites, FBI Director Robert Mueller told a House Appropriations subcommittee on Wednesday.
"For those in the intelligence community there has been a shift in the degree of concern about affiliates of Al Qaeda growing in strength and presenting a much enhanced threat to the United States," the Federal Bureau of Investigation director said.
Prior to the 9/11 attacks, he said, the Al Qaeda threat largely resided in or near Afghanistan. Now, however, US intelligence officials are monitoring the growth of groups based in Somalia and Yemen, among others.
Some 3,000 naturalized US citizens currently reside in Yemen, Mr. Mueller said, and intelligence officers are attempting to identify if any have been radicalized, trained, and tasked to return to the US to conduct attacks.
In addition, Mueller warned of the threat of Al Qaeda supporters emerging within the US domestic population who have grown sympathetic to Al Qaeda through contact with militant websites.
---