Janet Napolitano halts funding for virtual border fence
The virtual border fence was supposed to revolutionize US-Mexico border security. But delays and glitches led Homeland Security Secretary Janet Napolitano to freeze its funding Wednesday.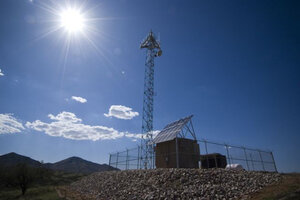 AP
In May 2006, President George W. Bush touted the SBInet project as "the most technologically advanced border security initiative in American history." The proposed "virtual border fence" along the US-Mexican border was to be a string of towers that would use cameras, radar, and ground sensors to see who was coming across in real time.
Now the project, which spent $2.4 billion between 2005 and 2009, has hit so many snags that the Department of Homeland Security (DHS) is freezing its funding.
"Not only do we have an obligation to secure our borders, we have a responsibility to do so in the most cost-effective way possible," wrote DHS Secretary Janet Napolitano in a press release Tuesday. "The system of sensors and cameras along the Southwest border known as SBInet has been plagued with cost overruns and missed deadlines."
In early trials, technical problems and other snafus led to media reports that DHS and the Boeing Co., which held contracts to build two sections of the high-tech fence, might mothball the project.
Problems included software glitches, camera images affected by wind and rain, and radar that had trouble distinguishing sagebrush from camping migrants or animals.
Boeing officials admitted that the effort had been more challenging than they anticipated. The project, which was supposed to be handed over to the US Border Patrol in June 2007 was not accepted until December. At a congressional hearing, Richard Stana, Homeland Security and Justice Director for the Government Accountability Office (GAO) said that the first phase of the project "did not fully meet the user needs."
---