Nissan's all-electric Leaf challenges GM Volt and Toyota Prius
With a federal tax credit and state rebates, the price for Nissan's zero-emission, all-electric Leaf could be just above $20,000. Fully charged, it'll go 100 miles.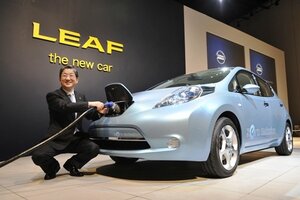 Newscom
Nissan's announcement Tuesday of a price for its new Leaf – the first mass-produced, all-electric battery-powered vehicle – is sending ripples through online consumers who've been waiting for it, and through the auto industry, too.
As recently as December, the buzz among auto analysts and the outcome of several battery-cost studies pointed to a plug-in vehicle that would just be too pricey for the average auto buyer. But now it seems likely that the Nissan vehicles will sell for less than $30,000 – a critical price point if President Obama's goal of 1 million plug-ins on the road by 2015 is to be met.
"When I heard the price, I was ecstatic because I knew it would mean Nissan is going to sell a lot of these, and that's going to help our country," says Paul Scott, vice president of Plug In America, an advocacy group that tracks vehicle development. "We think word-of-mouth on this car is going to be better than any consumer product since the iPod."
Tax breaks bring down price
Nissan said the suggested price will be $32,780 for its little five-seat Leaf, which will go 100 miles on a charge. A federal tax credit of $7,500 will bring the cost down to $25,280 – in line with the Honda Civic and Toyota Prius. In some states like Georgia and California, which enjoy an added $5,000 state rebate, the cost to the buyer will land just above $20,000.
---