More changes to airline security after Christmas Day incident
The changes focus on stepped-up intelligence sharing. They also attempt to address concerns that arose after new airline security measures were put in place in January.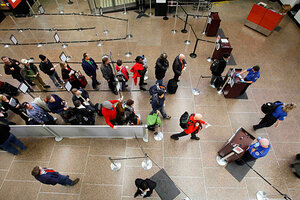 Elaine Thompson/AP
The Department of Homeland Security announced Friday a revamping of airline security for international flights to the US. The measures are intended to address not only the intelligence failures that preceded the attempted Christmas Day bombing of a Detroit-bound jetliner, but also the complaints that arose about new security procedures after that incident.
The revamped screening effort will mean enhanced security at international checkpoints, using advanced imaging technology, canine teams, pat-downs, and explosives detection. But perhaps more important, the changes will mean stepped-up intelligence sharing – between international agencies, foreign governments, and US embassies and security agencies.
Passengers planning to board planes to the United States will still have their passport information checked against terrorist watch lists. But now, other passenger information will also be scrutinized: their travel patterns, whether their ticket was paid for in cash, what stops they may be making in their journey, if they are traveling alone, and other behavioral data. A filtering process can zero in on whatever characteristics may be considered of interest at the time.
"These new measures utilize real-time, threat-based intelligence along with multiple, random layers of security, both seen and unseen, to more effectively mitigate evolving terrorist threats," Homeland Security Secretary Janet Napolitano said in a statement.
---