After space shuttle launch: three spacewalks, among other chores
The space shuttle launch was early Monday from the Kennedy Space Center. The 13-day mission will help prepare the International Space Station for life after the shuttle program ends later this year.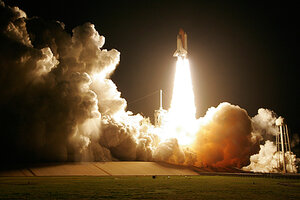 Pierre Ducharme/Reuters
The space shuttle Discovery and its seven-member crew launched into the predawn sky Monday at the Kennedy Space Center en route to the International Space Station.
The 13-day mission largely aims to continue outfitting the interior of the station and prepare it for life after the shuttle program ends later this year.
With the space shuttle launch, Discovery is lofting roughly 8 tons of cargo in Leonardo, a pressurized module in the cargo bay. It will become a permanent fixture on the station after the last shuttle flight. The orbiter also is carrying fresh science experiments to the ISS.
IN PICTURES: NASA's Space Shuttle
The to-do list includes three spacewalks. Astronauts will retrieve experiments located on the station's exterior, install fresh batteries associated with one of the station's solar-panel arrays, and perform other outside chores.
Inside, the crew will unload Leonardo, then repack it with science experiments, hardware no longer needed, and trash for the return trip.
For all the appearance of a mission dedicated to some cosmic spring sprucing, it remains a highly choreographed, aggressive task list, mission planners say.
"If you take a look at the spacewalks and the time of this mission, it's an extremely packed mission," says William Gerstenmaier, the National Aeronautics and Space Administration's associate administrator for space operations.
---