Gulf of Mexico oil spill brings out hundreds of volunteers
Oil company BP is paying local watermen to ferry trained workers deploying booms to help contain the massive oil spill in the Gulf of Mexico.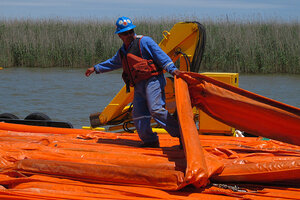 Newscom
Facing a manmade catastrophe that could rival the cost of Hurricane Katrina, thousands of Louisiana residents are asking what they can do help stem an imminent tide of oil washing toward the state's fragile wetlands.
Local radio stations and a state government web site are offering toll-free numbers for potential volunteers to call. At the Audubon Institute's Marine Mammal and Sea Turtle Rescue Program in New Orleans, workers have been fielding dozens of calls from people who want to help save sea creatures.
But the front line of community involvement was at the Boothville-Venice School outside Venice, Louisiana. Over three hundred people packed the school's gymnasium for a public meeting called by Parish President Billy Nungesser. Hundreds of fishermen signed up for a five hour safety class on handling hazardous materials, so they can offer their services deploying oil booms in the Gulf.
IN PICTURES: Louisiana oil spill
"We've been having people who want to help calling my office for days," said Mr. Nungesser. "They want to help and don't even ask about getting paid. They've got their boats, they know the depths of the water. We want to include all the people we can to help."
---