Arctic drilling opponents gain momentum from Gulf oil spill
Exploratory drilling is scheduled for July in the waters off Alaska's northern shore. Environmental groups, reeling from the Gulf of Mexico BP oil spill, are fighting to put those plans on hold.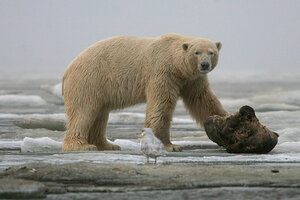 Newscom/File
As the federal government and BP struggle to bring the massive Gulf of Mexico oil spill under control, a battle over drilling in arctic water off Alaska's northern shore is heating up fast.
While most eyes remain glued on the Gulf of Mexico's Deepwater Horizon blowout and its massive oil slick, some are turning to the northern shore of Alaska where a rig called Frontier Discoverer and support ships are now headed to begin exploratory drilling for Royal Dutch Shell in the Beaufort Sea in July.
It was drilling in deep water that led to the BP blowout and environmental catastrophe now embroiling the Gulf, a disaster critics say would be many times worse were it to happen in the icy waters and often ferocious winter conditions of the arctic.
IN PICTURES: Oil rigs and Louisiana oil spill
Exploratory drilling has not occurred in Alaska's northern waters since the 1990s. Today there is just one production well - owned by BP - that is actually sitting on a manmade island - not in open water.
Has the federal government taken steps to ensure that the Frontier Discoverer will not be the next Deepwater Horizon? Residents of native village Point Hope, just 20 miles from one of the drill sites, say it definitely has not.
---