What is 'top kill' and when will we know if it plugs BP oil spill?
The 'top kill' procedure aims to cap the undersea well feeding the BP oil spill in the Gulf. The US Coast Guard gave approval Wednesday to proceed.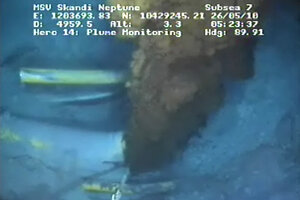 BP.com/AP
The US Coast Guard has cleared BP to proceed with the "top kill" procedure that officials say is the most complex attempt yet to stop oil from gushing into the Gulf of Mexico. The procedure is expected to begin Wednesday, though BP and the US Minerals Management Service had not announced a start time.
At its simplest, top kill involves pumping drilling mud at a rate of 40 to 50 barrels per minute to reduce the pressure of the oil's flow, ultimately stopping it altogether. Top kills have been performed to address similar spills, BP officials say, but none has been done at 5,000 feet below the water's surface.
"The pace at which we are doing this is unprecedented … [and] we need to be careful in terms of setting expectations," said Kent Wells, BP's vice president for exploration and production.
---