Texas memorial planned for fallen soldiers of Iraq, Afghanistan wars
A foundation is raising money to build a memorial to fallen soldiers of the war on terrorism, including the Iraq and Afghanistan wars. It's planned for rural Texas, but some say it should be in Washington.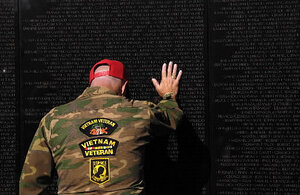 Andy Nelson/The Christian Science Monitor/File
For many Americans, Memorial Day weekend will include visits to the national war memorials in the nation's capital.
But a new memorial honoring fallen soldiers of the Iraq, Afghanistan, and Gulf wars is being planned as well – not in Washington, but in rural Texas.
Based in Mansfield, Texas, the United States Fallen Heroes Foundation (USFHF) hopes to build the 14-acre memorial in open farmland off Interstate 20 in the small, rural city of Kennedale, Texas.
Why not Washington? A lack of federally owned or private land in a city already crowded with monuments and memorials, say organizers.
Texas's two US senators, Republicans John Cornyn and Kay Bailey Hutchison, support the memorial's construction in the Lone Star State, said the foundation's campaign publicist Amanda LaPlante, and they plan to seek congressional approval for its national recognition on the foundation's behalf.
---