BP 'top kill' falters: Macondo well keeps spewing oil into the Gulf
It will take 7 years for the oil deposit below the Deepwater Horizon well to empty if left alone. On Saturday, BP acknowledged it may abandon its best chance so far to cork the well: the 'top kill'.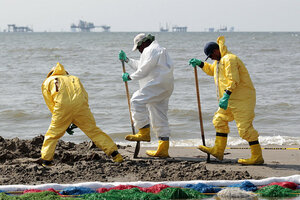 Jae C. Hong/AP
A third attempt to jam a junk shot of shredded tires and golf balls into the broken-down blowout preventer on top of BP's Macondo well in the Gulf of Mexico has failed, darkening prospects for BP's high-stakes "top kill" maneuver that began Wednesday.

In a dramatic turn from early optimism, BP chief operating officer Doug Suttles told reporters in Grand Isle, La., on Saturday that so far the attempt to stem the flow using heavy drilling mud and junk shots has not worked.
---