After Jim Joyce blown call, should baseball rethink instant replay?
Many analysts of the game say video review is needed, although not everyone thinks the system needs to change. The Jim Joyce blown call has reignited the debate.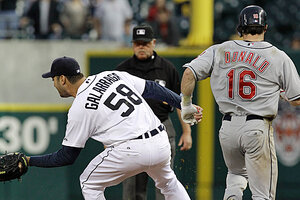 Paul Sancya/AP
Baseball can be a game of inches. But umpire Jim Joyce's blown call Wednesday wasn't the typical razor-thin call of "safe." On video review, Americans are viewing it as a clear umpiring mistake – one that cost pitcher Armando Galarraga a perfect game.
The umpire's call is raising pressure on the sport to reconsider a longstanding question: Why not use instant replays to help ensure that key calls by umpires are correct?
In this case, Mr. Joyce's call was pivotal. Mr. Galarraga of the Detroit Tigers was just one out away from a perfect game, in which a pitcher wins by getting every opposing batter out for nine straight innings. The game would have been just the 21st in the history of the major leagues.
Joyce's call involved a play at first base. Currently, video reviews are used in just one aspect of baseball: questionable home runs.
But while some people want more review, not everyone thinks the system needs to change.
Using replays wouldn't rule out all mistakes, for one thing. And the sport would have to make tricky choices about which calls would be reviewable. Too much review, and it would slow down a sport that is already defined by frequent and long pauses between plays.
But many analysts of the game say video review is needed, as occurs in football (another game of stop-and-start action), to ensure that some of the most obvious and game-changing bad calls can be reversed.
"We need instant replay to get these things right," said J.P. Ricciardi, former Toronto Blue Jays general manager, in postgame analysis on ESPN.
But he suggested the process shouldn't get into one of the most sensitive areas of umping – calling balls and strikes behind home plate. That would "take forever," he said.
---