Gulf oil spill: Louisiana's berm plan bold but full of uncertainty
The plan to build 90 miles of sand berms to protect Louisiana wetlands from the Gulf oil spill is now getting under way. But it could take nine months and have unintended consequences.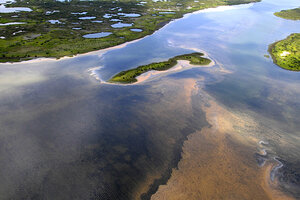 David Quinn/AP/file
China's Ming Dynasty built the Great Wall to thwart invasion. The French built their Maginot Line. Now Louisiana is gearing up to build offshore embankments of sand as bulwarks against the Gulf oil spill.
The embankments, or berms, will be placed on the seaward side of several of the state's fragile and vanishing barriers islands, and in some cases form temporary barrier islands, in order to reduce the amount of crude oil invading coastal marshes.
Since the drill-rig blowout April 20, which killed 11 rig workers and destroyed the Deepwater Horizon platform, the well has been spewing between 12,000 and 19,000 barrels a day into the Gulf, according to federal estimates. Scientists outside the government have independently estimated flows several times the officials figure.
IN PICTURES: Gulf oil spill's impact on nature
Late last week, BP installed a containment cap on the wellhead that appears to be capturing about 10,000 barrels a day and sending it to a ship at the surface. But oil is expected to continue leaking from blowout – although at reduced amounts – until BP finishes its two relief wells and can use them to choke the flow.
---