Abby Sunderland sailing ordeal: A new low for reality TV?
The parents of teen sailor Abby Sunderland, who was rescued this week after attempting to become the youngest person to circumnavigate the globe alone, drew more criticism as word of a reality TV deal surfaced.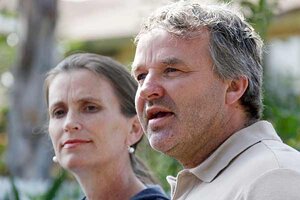 Reed Saxon/AP
The parents of a Abby Sunderland, already under fire for allowing their daughter to attempt a round-the-world, record-setting solo sail, are being stung by more criticism for reportedly signing a reality TV deal.
Ms. Sunderland set sail last January from Marina del Rey, Calif., but got stranded in the Indian Ocean last week after storms smashed the mast of her sailboat, Wild Eyes, immobilizing it and knocking out communications. She has since been rescued and is on her way to an island off Madagascar. The near-disaster triggered a frantic international rescue effort.
Now her father, Laurence Sunderland, has revealed that before his daughter's voyage he signed a contract with Magnetic Entertainment of Studio City, California, for a reality TV show to be called "Adventures in Sunderland." He told reporters Monday that the deal was off, citing disagreement with the show's producer over its direction, but a description of the show remained on Magnetic Entertainment's website Monday afternoon:
"We follow the family in their day-to-day lives as shipbuilder Laurence Sunderland and mother/teacher Marianne try to balance work and family. Their philosophy on building strong well rounded adults is to mentor their seven home schooled children into setting goals, creating a plan to reach those goals, and implementing them."
The reality TV plan drew immediate criticism from family and child development experts, who raised exploitation concerns.
---