Lawmakers slam Big Oil executives on spill preparedness
At Tuesday's congressional hearing, legislators criticized four Big Oil companies for being no more prepared for a large spill than BP.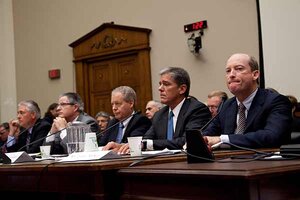 Evan Vucci/AP
Four of five Big Oil executives testifying before Congress Tuesday said they would not have drilled the Deepwater Horizon well in the same way that BP did, saying safety measures that could have been taken were not. The fifth executive, from BP, didn't have that option.
Well-control procedures were front and center at Tuesday's House Committee on Energy and Commerce hearing. A letter Monday by a subcommittee panel cited internal e-mails from a BP drilling engineer who called the Macondo well under the Deepwater Horizon a "nightmare well" just five days before it erupted and sank.
"It certainly appears from your letter than not all the standards we would employ ... were in place," John Watson of Chevron contritely told members of the committee when asked if Chevron would have done things differently.
Shell Oil Company chief Marvin Odum was more blunt: "It's not a well we would have drilled."
Tuesday's hearing is the latest step from a Congress whose legislators have in recent weeks seemed to alternate between berating BP for its blowout failure and inability to stop it, and hammering on the Obama administration for seeming slow and inept. But all the unrest could develop into what some analysts call a "stampede" in Congress which would bring tougher legislation on offshore drilling.
---