Studies suggest MMS knew blowout preventers had 'critical' flaws
Government regulators have said that the failure of the Deepwater Horizon's blowout preventer April 20 was unforeseeable. But studies conducted for federal regulators in MMS or with their participation show that blowout preventers were known to have 'safety critical' vulnerabilities.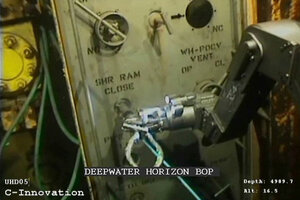 US Coast Guard/AP/file
The federal agency charged with setting safety standards for offshore oil exploration failed to act on at least four warnings about vulnerabilities in subsea blowout preventers, the critical safety device that failed to shut down the Gulf oil spill when the Deepwater Horizon oil rig exploded April 20.
Each of those four design flaws – detailed in three studies conducted for the US Minerals Management Service (MMS) during the past decade – threatened the ability of blowout preventers in deep water to function in an emergency.
Yet the flaws did not result in federal safety alerts or tougher standards for blowout preventer (BOP) manufacturers, say experts familiar with the MMS response to such findings.
RELATED: Before BP oil spill, Big Oil-led study urged feds to cut safety testing
With investigators still seeking to determine the cause of the Deepwater Horizon explosion, it remains unclear whether any of these vulnerabilities played a role in the failures that led to the Gulf oil spill. But MMS's lack of action in spite of warnings about the flaws, three of which have not been previously reported, points to a long pattern of ignoring rather than fixing known safety threats, the experts say.
"Were BOPs designed to fail and did MMS know this? Yes, some of their key people knew," says Robert Bea, an engineer at the University of California, Berkeley and one of the expert reviewers of President Obama's 30-day offshore oil-exploration safety review. "Did BP know?" he adds. "Yes, some of their key people knew. Did the industry know? Yes, some of their key people knew."
---