Should the US lean more on natural gas in its energy mix?
Natural gas could serve as a carbon-light 'bridge fuel' while renewable energy sources are still gaining ground in the US energy mix, a new study from MIT says.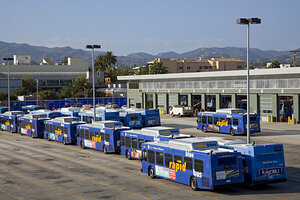 Newscom/File
The US could get a running start at curbing its greenhouse-gas emissions by shifting its energy mix more rapidly toward natural gas in the next few years, allowing renewable energy sources like wind and solar time to gain ground, a study released Friday found.
Such a finding represents a big shift from just a few years ago. Back then, natural gas prices were spiking, and proposals to build terminals to import liquefied natural gas (LNG) seemed likely to make the United States reliant on one more imported fossil fuel. Both of those issues cast doubt on arguments that natural gas could serve as a carbon-light "bridge fuel," substituting for coal until more renewable energy arrived.
But new techniques for extracting "unconventional" natural gas locked in massive US shale formations have changed the picture, says the report from the Massachusetts Institute of Technology in Cambridge, Mass. Those new supplies make it likely that natural gas will take on a much larger role in curbing greenhouse-gas emissions by 2050, the study says. This could happen by replacing old, coal-fired power plants with far more-efficient, modern natural-gas turbine generators.
"Much has been said about natural gas as a bridge to a low-carbon future, with little underlying analysis to back up this contention. The analysis in this study provides the confirmation – natural gas truly is a bridge to a low-carbon future," said Ernest Moniz, director of the MIT Energy Initiative, in a statement.
---