How BP wants to start over in bid to contain Gulf oil spill
Even before tropical storm Alex came on the scene, BP wanted to revamp how it collects oil from the leaking well at the center of the Gulf oil spill. Those plans could take shape this week.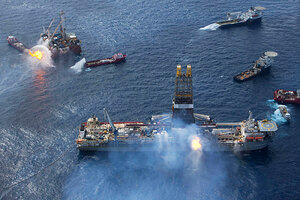 Daniel Beltra/Greenpeace/Reuters
Tropical storm Alex comes just as the Coast Guard and BP are preparing to make the oil-collection system at the leaking well on the sea floor more hurricane-ready.
For now, it appears as if Alex will pass far west of the Gulf oil spill. But even before Alex developed, the end of June and the beginning of July was shaping up to be a crucial moment in BP's bid to collect all the oil gushing into the Gulf of Mexico.
During the next two to three weeks, BP will make major changes at and above the well. It will bring in a host of new ships to replace those currently on site and radically change the underwater architecture that has captured 15,000 to 25,000 barrels of oil (630,000 to 1 million gallons) daily during much of the past month.
IN PICTURES: Response to the oil spill on the Gulf Coast
In the process, the company will make it easier for ships to connect to and disconnect from its network of subsea pipes in the event of a hurricane.
Here is a snapshot of what is happening now and how that is expected to change during the next few weeks.
What is going on now
Currently, two ships are collecting about 25,000 barrels of oil a day combined.
The first is the Discoverer Enterprise, which can process – in other words, separate from the water and natural gas also captured – about 15,000 barrels of oil a day. This oil is being sent to shore on tankers, and BP is donating revenues from the oil to a Gulf wildlife fund.
---