Twilight moms: Why women are drawn to teens' 'Eclipse'
Among Edward-obsessed teens lining up to see 'The Twilight Saga: Eclipse' are grown women equally taken by the teen love story.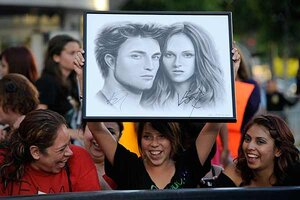 Chris Pizzello/AP
The latest film in the Twilight franchise,"Eclipse" opens this week, and this fact has more than a few female hearts fluttering, a surprising number of them years, yea, decades past the high school world the heroine Bella inhabits. While the book and movies have been officially dubbed "Young Adult," don't tell that to the thousands of moms, working adult women and even grandmothers who have been bitten by the book – and are now coming out of the shadows as official fans of the brooding adolescent tales.
They have web sites (twilightmoms.com), books ("Confessions of a Twilight Mom"), and a highly-visible presence at everything from the red carpet premieres to the tent cities of ticket-hungry fans. Most important of all, they have entered the official lexicon: Twilight Moms, or you can even call them Twi-Moms – just don't call them crazy.
"I've been amazed by their numbers," says Movies.com critic Jen Yamato, who estimates that nearly 40 percent of the female fan base for the franchise is over age 20.
"What appeals to these fans is the same thing that appeals to the teens who read [the books]: the powerful love story and the bond between Bella and Edward," she says, adding that while clearly Bella may not be the most liberated young woman in modern film," these women are experiencing this from an emotional point of view, not necessarily an analytical one."
---