'The Closer' opened doors for women – and for basic cable
'The Closer' returns for its sixth season Monday night at 9 p.m.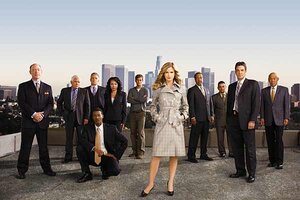 Newscom/File
Deputy Los Angeles police chief Brenda Lee Johnson returns Monday tonight. For those who have not tuned into the TNT crime dramedy "The Closer," launching its sixth season at 9 p.m., this is a show about a brilliant investigator who happens to wear flowered dresses, love shoes and chocolate, and cries over her dead cat's ashes. The quirky series owes as much to Helen Mirren's groundbreaking British procedural, "Prime Suspect," as to Peter Falk's deceptively goofy PI, "Columbo."
But in a singular and important way, it also has expanded the vocabulary of what is acceptable for women as seen through the lens of popular culture, say gender experts and media mavens.
"We've certainly seen women in powerful positions before," says author and gender researcher Maddy Dychtwald, pointing out Angie Dickinson in 1974's "Policewoman," and "Cagney & Lacy" from 1981. But those women were largely token in a sea of dominant males, and most important, strove to be like the men that surrounded them." In contrast, Dychtwald says the former FBI interrogator played by Kyra Sedgwick, "retains (and revels in) her femininity, keeps her composure, can handle the two 'sexist pigs' who bait her due to their jealousy and insecurities, and not lose her head."
---
Follow Stories Like This
Get the Monitor stories you care about delivered to your inbox.