Illegal immigrants: Which states have lost the most?
The number of illegal immigrants in the US has declined by about 1 million since the start of the recession. A new study looks at the trend state by state. Here are the top five.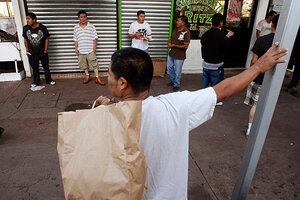 Jae C. Hong/AP/file
The number of illegal immigrants in the United States has declined during the great recession, and the trend has been fueled by an exodus from erstwhile boom states like Arizona and Florida.
That's the message from an analysis released Wednesday by the Pew Hispanic Center, a nonpartisan research organization.
According to the report, the number of unauthorized immigrants living in the US stood at about 11.1 million in March 2009, down from 12 million in March 2007, shortly before the recession began. Although the report doesn't claim to have precise numbers, it estimates that most of the declines have occurred in a relative handful of states: Florida, New York, Arizona, New Jersey, and California.
Several of those are Sun Belt locales where a housing boom went bust, affecting the availability of jobs in construction and related fields. For example, the study suggests that the illegal immigrant population in Arizona fell by perhaps 20 percent, even before the governor signed a controversial law on the issue this year.
---
Follow Stories Like This
Get the Monitor stories you care about delivered to your inbox.