Swamped Midwestern towns prepare for more flooding
Minnesota and Wisconsin declared emergencies in the flood-ravaged portions of each state. Sandbagging continued with reports that downpours would continue Saturday.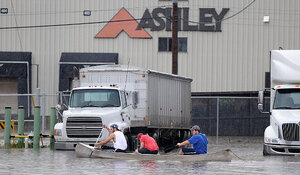 Dan Reiland/Eau Claire Leader-Telegram/AP
Towns across southwest Wisconsin, southern Minnesota and southeast South Dakota are starting to assess the damage wrought by a powerful storm system that delivered nearly a foot of rain less than two days earlier. Storm waters forced the banks of the Mississippi River and other local river systems and lakes to overflow, flooding homes and forcing evacuations that continued though Friday.
The National Weather Service reports that towns across southern Minnesota received between 6-10 inches of rain Wednesday into Thursday. Floodwaters filled basements, caused home foundations to collapse and surrounded towns with water by submerging highways and county roads and, in some instances, destroying bridges.
A pause in the rain Friday allowed emergency crews to continue evacuations, but sandbagging continued with reports that downpours would continue Saturday. No deaths or injuries are reported. Communities that have yet to be affected by river flooding are particularly in danger with high water flowing downriver.
---