Falcon Lake 'pirate' murder: Is beheading 'message to the Americans'?
The beheading of a Mexican detective investigating the shooting of American David Hartley on Falcon Lake raises the stakes for both the US and Mexico. The Hartley probe appeared to be narrowing to two alleged members of the Zeta cartel.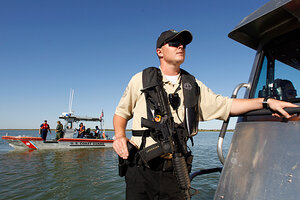 Eric Gay/AP
The beheading of a Mexican detective investigating the Sept. 30 shooting of American David Hartley on a border lake is forcing both the United States and Mexico to weigh the pros and cons of a potential standoff with cartel-linked pirates on Falcon Lake.
Rolando Armando Flores Villegas, a homicide detective for the border state of Tamaulipas, was killed and his head delivered in a suitcase to a military outpost just days after he handed documents to a Texas TV station naming two Zeta cartel members as suspects in the shooting on Falcon Lake. The 60-mile-long lake straddles Texas and Mexico.
"The will of both nations is at stake right now," says Texas legislator Aaron Peña, who broke the story of the beheading via Twitter on Tuesday. "I think what [the beheading] does is strengthens resolve of people on the American side of the border and for the Mexican government exposes a do or die circumstance."
Coming after a record 79 Americans were killed in Mexico in 2009, the Falcon Lake shooting and the murder of the Mexican investigator has become a talking point in the Texas gubernatorial race, and has sparked calls for the White House to get directly involved by further militarizing the border.
---