Key to Texas Rangers victory: Home-grown talent
The Texas Rangers excel in identifying potential players, then preparing them for the Big Leagues. Home-grown talent will be on display when they go to the World Series for the first time.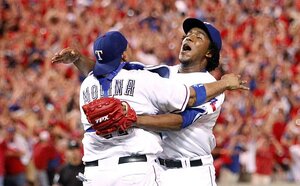 Jeff Haynes/Reuters
In 2008, the Texas Rangers drafted Justin Smoak, a young first baseman who had just graduated from the University of South Carolina.
In two years, he made it to the major leagues, and he illustrates why the Rangers eliminated the defending World Champion New York Yankees on Friday night 6 to 1 and are going to the World Series for the first time in their history.
Actually, Mr. Smoak won't be on the field to hear the roar of the crowd. On July 9th, he got traded to Seattle, along with three minor leaguers, for star pitcher Cliff Lee who struck out 13 Yankee batters in game three. Mr. Lee, a lefty and the Texas ace, will probably start game one of the Series for the Rangers.
But, it wasn't only the Lee trade that is one the reasons Texas will be in the World Series.
It's also because Texas was able draft young players with potential such as Smoak who could be used to trade for stars or who are currently playing for the team. At the same time, the Rangers shifted their basic philosophy – no longer trying to pound teams into the ground with the home run ball – but taking advantage of speedy young players who can race around the bases.
Some of that home-grown talent will be on display when Texas takes on either the San Francisco Giants or the Philadelphia Phillies. (We will know by Saturday night or Sunday night.)
---