Obama calls midterm elections 'humbling,' promises to do better
He acknowledged the 'shellacking' Democrats took in the midterm elections. But at his press conference Wednesday, Obama did not back away from policies that got him in trouble with voters.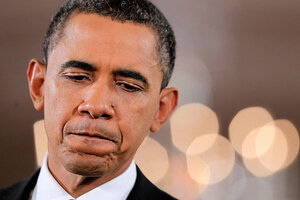 Charles Dharapak/AP
A subdued President Obama acknowledged in a press conference Wednesday afternoon the "shellacking" his Democratic Party suffered in Tuesday's midterm elections, and promised to work with the Republicans on a range of issues, foremost the economy.
Mr. Obama called the election results "humbling." Indeed, there was no way to put a good face on a midterm result in which the Democrats lost at least 60 seats and control of the House, saw their Senate majority reduced, and lost 10 governors' seats.
"Some election nights are more fun than others," Obama said in understated fashion, just two years after his own historic election. "Some are exhilarating, some are humbling."
While the president stated that he has to work harder at building consensus, he did not back away from the very policy choices he made during his first two years in office that got him in trouble, namely the big economic stimulus package, the auto industry bailout, comprehensive health-care reform, and financial regulatory reform.
"If right now we had 5 percent unemployment instead of 9.6 percent unemployment, then people would have more confidence in those policy choices," Obama said.
---
Follow Stories Like This
Get the Monitor stories you care about delivered to your inbox.