Huge drug busts linked to tunnels, as border security tightens
Authorities hint that a drug-running tunnel – the second discovered this month – was a major conduit into the US from Mexico. It's the latest indication that border security is driving smugglers underground, literally.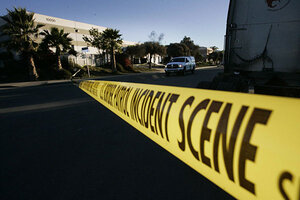 John Gibbins/San Diego Union-Tribune/AP
If you can't beat them, tunnel under them.
That seems to be one credo of Mexican drug smugglers employing prairie-dog methods to build sophisticated tunnel systems that allow them to carry tons of marijuana into the US.
The discovery over Thanksgiving of a half-mile-long drug tunnel from a house in Tijuana to two warehouses in San Diego's Otay Mesa community, marks the second such find in less than a month. A tunnel the length of six football fields was found Nov. 2, also from Tijuana into the San Diego area.
IN PICTURES: US-Mexico drug tunnel
Both tunnels, US authorities say, came complete with light-gauge rail lines and rail sleds powered by car batteries, to more quickly move bundles of pot as deep as 70 feet below the borderlands. Some tunnels – including the most recent ones found – show very sophisticated engineering, sporting ventilation, lighting, and even drainage systems.
---