'Too good to be true': SpaceX mission appears nearly flawless
With a successful mission, SpaceX takes a major step toward proving the Falcon 9 rocket and its Dragon capsule can pick up where the retiring space shuttles leave off.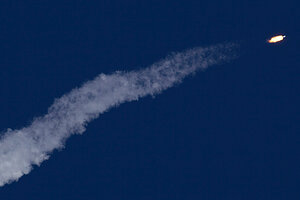 Scott Audette/Reuters
A privately financed company, SpaceX, lofted a spacecraft of its own design into orbit Wednesday and safely brought it back – a technological feat until now the province of government space programs.
The success is a major step toward expanding the role private companies play in launching people and the cargo they need to sustain them into space.
At 10:43 a.m. Eastern time, SpaceX's Falcon 9 rocket carried the company's Dragon spacecraft into orbit. Three hours and 19 minutes later, the Dragon capsule splashed down in the Pacific some 500 miles off the southern California coast, falling less than a half mile from its intended target point – for rocket scientists, a bulls-eye.
The mission is the second successful launch in a row for the Falcon 9 itself – no mean feat, according to Alan Lindenmoyer, who runs NASA's commercial crew and cargo program. He notes that over the past 20 years only half the new rockets tested succeeded on their first or second flight, while only one out of three posted back to back successes.
In a congratulatory post on Twitter, former space-shuttle program manager Wayne Hale added that "safely returning anything from orbit is harder than getting it into orbit in the first place."
---