California storms bring inconvenience, not devastation, so far
First responders are busy but not overwhelmed by rain storms that have lashed California for five days. Preparedness efforts include ways to channel mudslides, should they strike roads or homes.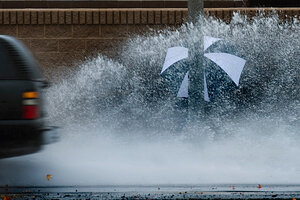 Bruce Chambers/The Orange County RegisterAP
California is uncharacteristically soggy, but it has so far weathered the onslaught of drenching storms without massive interruptions of power, traffic nightmares, or serious damage to the public.
That's not to say first responders aren't busy. Vehicles are colliding on roads that, embedded with oil during the dry months, can cause hydroplaning once the rain slickens the oily surface. Tree limbs have fallen on homes, and rescue teams have been plucking motorists from trapped car and hikers from normally dry creek beds and isolated paths in parts of the southern California mountains.
But five days into the once-in-a-decade deluge, the good news is that no major mudslides have been reported in mountainous areas denuded by fires in October 2009, meaning homes at lower elevations are so far riding out the storms.
IN PICTURES: California's great storms of December 2010
Normally, it rains about 35 days a year in California, but the successive storm systems cued up to strike California appear likely to make 2010 a memorably sodden one.
Swift water and aerial rescue teams are plucking motorists from trapped cars, normally dry creek beds, and isolated hiking paths in several areas of southern California mountains as the National Weather Service says other storms are cued up, ready to strike.
---