'Twas the time to recover and all through the shops...
An ode to the economic recovery – and other news of 2010 – inspired by Clement Clarke Moore's classic Christmas poem.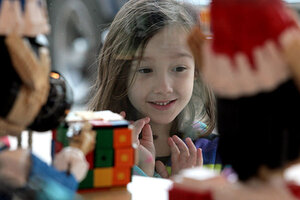 John Walker/The Fresno Bee/AP
Whew, another year has flown by, and it's been a news-filled one for the US economy. Here's a look at the economic year in review, in verse, inspired
by the classic "A Visit from St. Nicholas," often attributed to Clement Clarke Moore.


'Twas the day before Christmas and all through the land,
The economy was stirring, though it still needs a hand.
We've hung up the stockings, and spent without fear
With hope a jobs rebound will soon be right here.

But while looking ahead, we must also glance back;
It's been quite a year. Business news? There's no lack.
Things started off cool – at Dow 10-4-2-8.
"ObamaCare" was coming, but would it be great?
Investors were fretting, not sure what to trust.
Was China an engine or starting to rust?
By September we'd learn the recession was over.
Since June of '09 we'd been living in clover.
---