On Gulf Coast, nail-biting over future of domestic oil drilling
Stricter deep-water drilling regulations mean Gulf Coast waters are likely to yield less oil this year. Energy firms may shift attention abroad.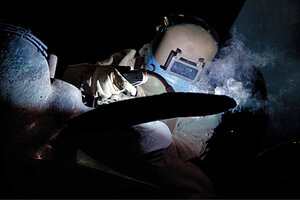 Melanie Stetson Freeman/Staff
Three months have come and gone since the Obama administration lifted the moratorium on deep-water drilling for oil and gas, but there hasn't exactly been a stampede back to the Gulf of Mexico to sink wells into the ocean depths.
It's harder now to meet the government's terms for offshore drilling in deep water, after last year's mammoth oil spill laid bare deficiencies in emergency planning and oversight. Only two permits for new wells have been issued since the moratorium ended on Oct. 12.
That worries people whose livelihoods depend on a robust schedule for drilling in the Gulf – people like Ray Walters.
Walking the dusty back lot of his manufacturing business in coastal Amelia, La., Mr. Walters pauses and rests his hand on one of four state-of-the-art oil skimmers built on order for the State of Mississippi. The vessels were meant to collect spilled oil in the Gulf, but once the Macondo well was capped and the oil stopped gushing, his contract was voided and he was only partially paid.
The spill and the subsequent drilling moratorium have had an adverse effect from which his company has not recovered. Before the moratorium began on May 28, "we were up to 37 [employees working] two 12-hour shifts. Since [the moratorium was issued] we're back to five people and barely maintaining. I don't think it'll ever get back to where it was," he says.
---