US cancels 'virtual fence' along Mexican border. What's Plan B?
After $1 billion spent, the US has 53 miles of 'virtual fence' in Arizona. The high-tech project is too costly to extend along the whole US-Mexico border, the Homeland Security chief said Friday.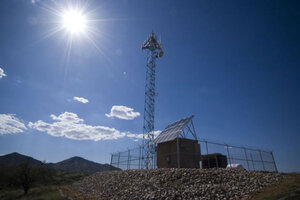 US Customs and Border Protection
The dream of a high-tech barrier stretching from one end of America's southern border to the other – originally hailed by then-President George W. Bush as "the most technically advanced border security initiative" ever – is officially burst.
In announcing that it would pull the plug on the troubled "virtual fence" project, the US Department of Homeland Security (DHS) said Friday it would instead pursue a region-by-region approach, with different parts of the US border protected in different ways as dictated by terrain and other area-specific conditions.
"This new strategy is tailored to the unique needs of each border region, providing faster deployment of technology, better coverage, and a more effective balance between cost and capability," said DHS Secretary Janet Napolitano in a statement.
RELATED: Could you pass a US citizenship test?
Almost from the onset, the virtual fence – known as the Secure Border Initiative network, or SBInet – ran into problems. As pilot projects were built in two spots in Arizona along the border with Mexico, cost overruns mounted. Just as worrisome was that the technology – in the form of camera-topped surveillance towers that was supposed to pinpoint for border agents in a distant command post the exact location of illegal border-crossers – was often flummoxed by conditions on the ground such as terrain and weather.
---