Snow storm routine getting old? No worries, the groundhog got it right.
The weather pattern that sent snow storm after snow storm across the US is breaking down, leading to forecasts of one of the biggest snow meltdowns 'we have ever seen.'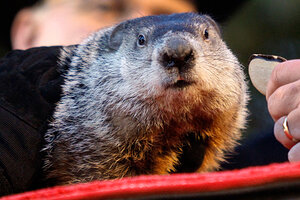 Keith Srakocic/AP
It looks as if the groundhog got it right – at least for the next few weeks.
"So, an early spring it will be," was the prediction Feb. 2 after Punxsutawney Phil failed to see his shadow.
Now the meteorologists are making similar predictions.
Once the next blast of cold air – some of the most frigid of the season – moves past the Northeast by the end of the week, the weather forecasters say the temperature will start to feel less like the Yukon and more like some of those March days when you can actually eat lunch outside without watching your soup develop a layer of ice on top.
The change will be dramatic: As of Thursday evening about 60 percent of the nation will have snow on the ground, says Accuweather.com. But, by the end of next week, less than 25 percent of the country will be covered with the white stuff.
"It will be one of the biggest meltdowns we have ever seen but with very little in the way of flood problems," says Henry Margusity, senior meteorologist at Accu-Weather.com in State College, Pa. "The back of winter has been broken."
It will be a very sharp contrast for places like Dallas, site of the recent SuperBowl, and Ground Zero for unwanted snowstorms that shut down the airport and caused rolling electrical blackouts last week.
---