No. 1 priority for US security: domestic terrorism, threat report says
America's intelligence-agency chiefs unveil the annual National Threat Assessment, saying that success against Al Qaeda means that domestic terrorism is now 'priority No. 1.' They also say they knew Egypt unrest was 'close,' but couldn't foresee when it would ignite.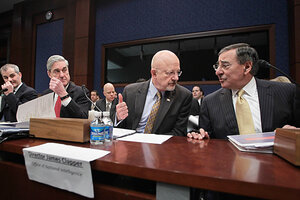 J. Scott Applewhite/AP
The heads of America's intelligence agencies rolled out their annual National Threat Assessment Thursday, warning members of Congress about the increasing danger that homegrown terrorists pose to the country.
"Absolutely our No. 1 priority" is identifying Americans intent on doing harm to their own country, Michael Leiter, the director of the National Counterterrorism Center, told the House Intelligence Committee.
The panel of intelligence officials also cited the devastating potential for cyberattacks and defended the performance of US intelligence-gatherers in the Middle East, who have been widely criticized for failing to predict the current showdown on streets of Egypt.
While homegrown actors represent a "numerically small" segment of the terrorist threat, they have disproportionate access to US facilities, noted Director of National Intelligence James Clapper. He said that he remains "especially focused on Al Qaeda's resolve to target Americans for recruitment."
---
Follow Stories Like This
Get the Monitor stories you care about delivered to your inbox.