Spacewalk success: space station gets new walk-in closet, Robonaut included
On Monday and Tuesday, spacewalking astronauts installed a new Italian-built cargo carrier that will provide storage for the International Space Station, after it is unpacked in coming weeks.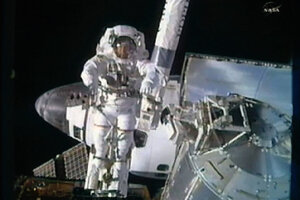 NASA TV / Reuters
Welcome to your new home, Leonardo.
With a deft touch, astronauts Nicole Stott and Michael Barratt used the space station's robotic arm Tuesday morning to gingerly lift a 21-foot-long module from the orbiter's cargo bay and attach it to the International Space Station. For 10 years, the Italian-built module, dubbed Leonardo, has ferried goods to and from the space station; it is now the Permanent Multipurpose Module – a new walk-in storehouse for the orbiting outpost.
The space station was high over Turin, Italy, when controllers in Houston drove the final bolts home that joined the Italian-made module to the station. Fully loaded with station-bound cargo, the module tipped the scales at 13.5 tons.
The module, modified to survive the rigors of long-term exposure to space, will give the space-station crew nearly 2,500 cubic feet of additional, pressurized space for storage as well as for racks of science gear. For now, the silvery cylinder also is home to Robonaut 2, the upper half of a humanoid robot that designers hope will ultimately become a mobile, silent partner to the station's crew.
---