Why the film industry chose former Sen. Chris Dodd to run the MPAA
Former Sen. Christopher Dodd is the new chairman and CEO of the film industry's MPAA, taking a position filled for four decades by the flamboyant Jack Valenti.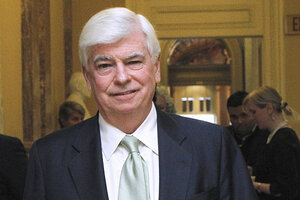 Manuel Balce Ceneta / AP / File
The appointment of former US Senator Christopher Dodd (D) of Connecticut to head the Motion Picture Association of America – announced March 1 – is being widely applauded by film industry watchers and cinema academics.
The MPAA was formed in 1922 with two primary objectives, says Howard Suber, professor emeritus of the UCLA School of Film. One was to deal with attacks from outside, such as the calls for more regulation of sex and violence onscreen, and the other to advance the industry's interests – like any other lobbying organization.
By appointing Christopher Dodd, the MPAA is going back to its roots of choosing major Washington politicos, says Professor Suber.
"The MPAA began by hiring an important Washington insider who ... had major contacts without being perceived as too partisan," says Suber, referring to Will Hays, who had run President Warren Harding's successful 1920 presidential campaign.
"Christopher Dodd has the certain kind of class, breadth and depth that the MPAA has always looked for," says Suber. "He is an elder statesman."
---