Southwest Airlines cancels 300 flights, begins inspecting aircraft
Southwest Airlines is inspecting 79 of its Boeing 737-300 jets after an incident Friday when a three-foot section of the overhead fuselage ripped open. The airline canceled 300 flights Sunday.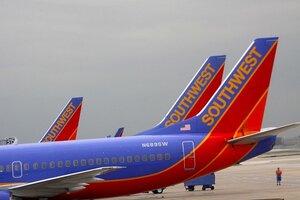 Newscom
Southwest Airlines canceled 300 flights Sunday as it began inspecting 79 of its Boeing 737-300 passenger jets.
What Southwest says will be "an aggressive inspection effort in cooperation with Boeing engineers" follows an emergency Friday when a flight from Phoenix to Sacramento, Calif., had to make an emergency landing at the Marine Corps Air Station in Yuma, Arizona.
Shortly after Flight 812 had reached an altitude of 36,000 feet, a five-foot section of the overhead fuselage ripped open, depressurizing the cabin and slightly injuring a flight attendant and one passenger.
Inspectors will be looking for evidence of "aircraft skin fatigue" in the grounded jetliners. Flight data recordings and maintenance records for the damaged aircraft will be inspected as well.
"Our mission is to determine not only what happened, but figure out why it happened, so that we can prevent things like this from happening in the future," National Transportation Safety Board (NTSB) member Robert Sumwalt told reporters Saturday. "If we find deficiencies that need addressing… we can issue an urgent safety recommendation at any point during the investigation."
---
Follow Stories Like This
Get the Monitor stories you care about delivered to your inbox.