Gov. Rick Perry sees Texas wildfires as statewide emergency. FEMA doesn't?
Ten days have elapsed since Gov. Rick Perry (R) asked for a federal disaster declaration, to get more US help to fight Texas wildfires. Why a slow answer could backfire for both Obama and Perry.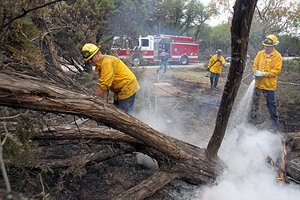 Louis DeLuca/The Dallas Morning News/AP
In a strongly worded letter to President Obama on April 16, Texas Gov. Rick Perry asked for a federal emergency declaration that would release more US resources – and cash – to fight what may be the worst wildfire season in Lone Star State history.
"I have determined that this incident is of such severity and magnitude that effective response is beyond the capabilities of the state," Governor Perry wrote.
Ten days later, that appeal has gone unanswered, though nearly 1 million acres have burned in the meantime. Last week, Perry asked Texans to pray for rain to stall fires that have scorched nearly 2 million acres since late last year – the amount that had burned in 2008, when President Bush, a Texas resident, declared a federal emergency in Texas on March 15.
In an e-mail, FEMA spokesman Bradley Carroll said Perry's request for a statewide disaster declaration is under review. He also noted that in cases of natural disasters such as wildfires, the first responders are local emergency personnel, volunteers, humanitarian organizations, and private groups, and he pointed to 20 fire management assistance grants that FEMA has already applied to specific working fires in Texas. The grant money can be used to cover as much as three-quarters of Texas's eligible firefighting costs, such as expenses for field camps, equipment, and firefighter mobilization and demobilization, for a specific fire.
---