Missouri's Black River levee fails. Where floodwaters could hit next.
Residents along the Mississippi and Ohio Rivers brace for a pair of crests that could bring record floods. In Missouri, 1,000 flee the overflowing Black River after 15 inches of rain in four days.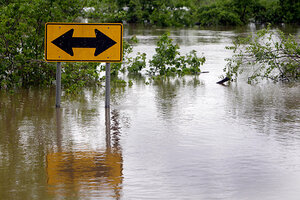 Jeff Roberson/AP
Record or near-record flooding is expected along stretches of the Ohio and Mississippi Rivers in the coming days as the central and south-central US struggles to cope with the peak of the 2011 flood season.
Record winter snows and prolonged cold that kept the ground frozen and unable to absorb the spring melt have combined with a week of pummeling rains from intense spring storms to flood fields and riverside communities.
The spring storms, which have brought tornadoes as well as floods, have prompted the governors of Arkansas and Kentucky to declare states of emergency.
In Poplar Bluff, Mo., which has received some 15 inches of rain over the past four days, levees protecting the town from floods on the Black River have been breached or overtopped in several places, forcing the evacuation of some 1,000 people. According to the Associated Press, the privately maintained levees that protect homes and farms near Poplar Bluff failed an Army Corps of Engineers inspection in 2008.
---