'Jetman' zooms along rim of Grand Canyon in first US flight
Jetman, aka adventurer Yves Rossy, hit 190 m.p.h. Saturday as he flew with a jet-pack above the Grand Canyon. Where some see self-promotional stunt man, others see a boundary-breaker.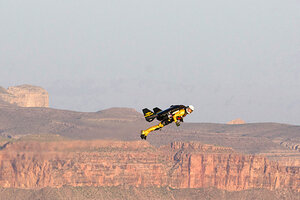 Alain Ernoult/Breitling/AP
He calls himself Jetman.
Harnessed into a six-foot-wide, 45-pound carbon-fiber wingpack shaped like a boomerang with a raised fin, Swiss adventurer Yves Rossy pulled off his first escapade in the United States on Saturday, shooting along the rim of the Grand Canyon for about eight minutes before opening his parachute and wafting down to the canyon floor.
It was a spectacle, to be sure – and the ride will definitely end up on YouTube. But whether Jetman's performance qualifies as a publicity-seeking stunt of the "balloon boy" variety or a quest to expand the limits of human endeavor, well, that depends on the beholder.
As for Mr. Rossy, he portrays his winged adventures as a bid to push the envelope of human flight.
"I built this wing to realize my own dream: to fly like a bird," he says in an interview released by his Beverly Hills-based marketing firm, Centigrade Inc. "Flying is a passion. I always wanted to fly since I am a child. My inspiration has always been to realize my dream."
Rossy does not exactly float through the air like a bird; he rockets along at 35 to 50 miles per hour. For his Grand Canyon adventure, he hit 190 m.p.h., his promotional team said. He steers with a gentle turn of his head and arms. Jetman has already traversed the English Channel and the Alps, but he ended up in the waves when he tried to cross the Straits of Gibraltar in November 2009.
---