Poll: With gas prices high, Americans want 60 m.p.g. fuel efficiency
A new poll suggests that a majority of Americans – both Democrats and Republicans – support a plan to almost double federal fuel-efficiency standards for automakers by 2025. High gas prices are seen as being behind the trend.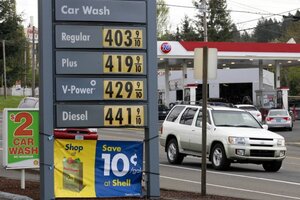 AP Photo/Rick Bowmer/file
As gas prices across the US hover near $4 a gallon, a new survey finds a majority of Americans support requiring automakers to meet a 60-mile-per-gallon standard by 2025.
The findings come as the Obama administration is expected to propose new fuel-efficiency regulations in September. Environmental groups say a 60 m.p.g. standard would save US drivers $101 billion per year. In 2009, the administration set the standard for light cars and trucks to 35.5 m.p.g. by 2016.
The nationwide survey of 2,000 adults was released Monday and commissioned by the Consumer Federation of America (CFA), a left-leaning nonprofit. It found that 75 percent of Americans say improving fuel economy standards is important. Sixty-two percent supported federal regulation requiring automakers to meet 60 m.p.g. standards by 2025.
A majority of people across the political spectrum supported such a measure, especially if fuel savings would negate the extra cost of a fuel efficient car within five years of purchase. Sixty-two percent of Republicans were in favor of a 60 m.p.g. standard, and 71 percent of Democrats supported the measure. Independents were the least supportive, with 56 percent favoring the measure.
Economic, not environmental, concerns seem to be driving attitudes about improved fuel economy, with gas prices averaging $3.81 per gallon in May, according to AAA.
"Gas prices are the main driver of smaller vehicle or more fuel-efficient vehicle purchases," says Camyrn Craig, a research analyst at Kelley Blue Book, which tracks car sales. Her company found that gas mileage was a consideration for 84 percent of car buyers in April.
---