Obama visits Puerto Rico: a quiz to test how well you know it
President Obama travels to San Juan, Puerto Rico, on June 14, the first time a sitting US president has visited the territory since 1961. In honor of Mr. Obama's Puerto Rico visit, test your knowledge of the island with this quiz.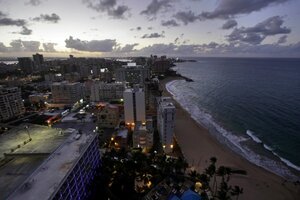 Brennan Linsley/AP/File
Question 1 of 10
1.

Puerto Rican Gov. Luis Guillermo Fortuno supports which of the following?
Puerto Rico becoming the 51 state

Puerto Rico becoming its own country

Puerto Rico remaining a territory

Puerto Rico forming a new country with the Dominican Republic