Economic bright spot: bargain-hunting foreigners flocking to US
The dollar has taken a beating, but that makes America an attractive destination for foreigners looking for bargain vacations. It's a boon for the US tourist industry and travel-related jobs.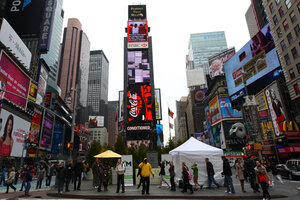 Liu Xin/Xinhua/Photoshot/Newscom/File
The truthful international traveler will acknowledge that of America's many attractions – hamburgers, shopping malls, the Statute of Liberty – its cheap prices spurred by a weak dollar are among the most enticing.
"We are thinking we are lucky to come here, because it's so cheap now," says Naoko Yamanaka, a visitor from Tokyo, before biting into a Big Mac in Times Square.
The dragging US economy of recent years has brought the value of the dollar down with it. That presents its own set of problems, but it has actually benefited the economy in at least one respect: Foreign travelers are lured to the US, where they can expect to get a bigger bang for their euro, franc, and yen.
"If the dollar's down," says Joel Naroff, president of Naroff Economic Advisors, "for those foreigners whose currency has gone up, that's like getting an automatic discount on the price."
The dollar hit 75 on the US Dollar Index Friday, nearing an all-time low of 70, says Kelly Loeffler on Intercontinental Exchange. While the dollar has rebounded slightly since hitting a three-year low in May, the faltering American economy and concerns about the US budget deficit continue to keep the greenback at historically low levels.
---