Who has final say over the fate of Vermont Yankee nuclear power plant?
If a state wants to shutter a nuclear power plant, but the feds have relicensed it, does the state have legal grounds for closure? That question is being wrestled with in federal court.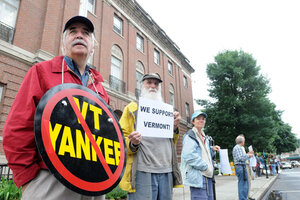 Jason R. Henske/AP/FIle
Vermont has won the first round in its legal battle to shut down the Vermont Yankee nuclear power plant. On Monday, a federal judge denied the plant owners' request for an injunction to keep it running until a legal decision is made.
While the Vermont Yankee case is unique in many respects, its outcome could have implications for other states. Dozens of older nuclear plants are seeking to renew operating licenses to extend their lifetimes another 20 years beyond their original 40-year licenses. The debate over whether to renew these licenses gained even more urgency after the Fukushima nuclear disaster in Japan earlier this year.
Last year, the Vermont Senate voted 26 to 4 to refuse the plant a new operating permit, citing unreported radioactive water leaks and the 2007 collapse of a Vermont Yankee cooling tower. Yet the federal Nuclear Regulatory Commission (NRC) moved to extend the plant's license for 20 more years just days after the Fukushima disaster began.
Observers say the case could easily be appealed all the way to the Supreme Court.
"There is the broad principle, upheld by the Supreme Court in 1983, that states have the right to regulate some aspects of nuclear power," says Diane Curran, a Washington attorney representing several groups seeking an NRC review of relicensing. "The ultimate decision in this case could impact that fundamental principle."
---