Chicago police use more deadly force as gang war heats up
Chicago police have already shot and killed more people this year than they did in 2010. Officials blame a 'wanton disregard for law,' but critics say police have been too aggressive against gangs.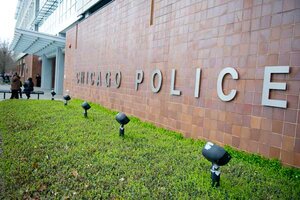 Ann Hermes/The Christian Science Monitor
Chicago Police officers have killed more people this year to date than the total number killed in 2010.
A quarterly report just released by the Independent Police Review Authority (IPRA) shows that 14 people were shot and killed by Chicago officers in the first six months of this year ending June 30. The Chicago Sun-Times reported Saturday that, according to news accounts that tally numbers through July 21, the number of fatalities is actually 16.
In 2010, 13 people were shot and killed by Chicago officers.
Chicago officials suggest that criminals are becoming more brazen than ever before. Critics suggest that Chicago police are feeding into a cycle of violence with aggressive policies.
Nationwide, it is a problem that has risen and fallen during the past decade, starting low at 180 in 2000 and peaking at 280 in 2006. In 2009, the latest data available, 238 felons were killed when attacking a police officer.
But it is important not to overinterpret "short-term changes to numbers that are relatively small," says James Alan Fox, a criminologist at Northeastern University in Boston. Chicago's claim that criminals are becoming more ruthless "is something you hear all the time.... It's not new."
For Chicago officials, however, it has been striking. The number of shootouts involving police this year is also nearing the 2010 total. As of July 21, the police were involved in 40 shootings. There were 46 shootouts recorded in 2010.
---