'Flash robs': How Twitter is being twisted for criminal gain [VIDEO]
'Flash robs' take social-media driven 'flash mobs' into new and dark territory, using Twitter and Facebook to organize thefts. It's a sign of how the Internet can reshape criminal behavior.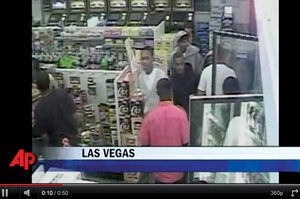 A message goes out over Twitter and suddenly hordes of young people appear in a store and start stealing thousands of dollars' worth of merchandise. Then, as quickly as they came, they disappear.
It's happened in cities from Las Vegas to South Orange, N.J. – a criminal twist on the "flash mobs" phenomenon in which people use social-media websites to organize instant political events, massive snowball fights, or insurrections in the Middle East.
Police are on the alert. "We have to knock this out," incoming Chi­cago Police Superintendent Garry McCarthy said recently after several major stores, including The North Face and Filene's Basement, were hit by "flash robs" along the city's Miracle Mile shopping district, raising concerns that tourists might begin to avoid the areas.
For a growing number of marginalized youth in urban America – especially young black men, who have been the hardest hit by America's economic troubles – flash robs have become a way to feel powerful, some social-justice experts say. For others, they could be a new outlet for Internet-age thrill-seekers.
But social media is clearly becoming a new tool for crime, and flash robs are simply one of the newest mutations.
"The fascinating thing about technology is that once we open the door, it's going to move in ways that we can't always predict and are slow to control, because we are reacting rather than [being] proactive," says Scott Decker, a criminal justice professor at Arizona State University in Tempe.
---