Cheers all around as Obama sets fuel efficiency goals for big trucks
First US fuel efficiency rules for heavy-duty trucks, unveiled Tuesday, are embraced by trucking firms, manufacturers, and environmentalists. They'll cut fuel consumption and carbon emissions.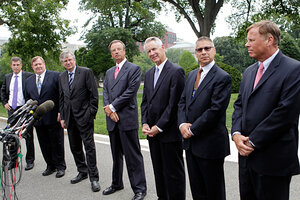 J. Scott Applewhite/AP
The Obama administration on Tuesday unveiled the nation's first fuel-efficiency standards for heavy-duty trucks, a move embraced by truck manufacturers and trucking companies trying to slash fuel costs – as well as by environmentalists seeking to slow global warming.
Coming on the heels of the administration's move to require better mileage for cars and light trucks, the new standards for heavy trucks are calculated to save 530 million barrels of oil, cut $50 billion from fuel costs, and slash greenhouse gas emissions by about 270 million tons over the lifetimes of trucks built from 2014 to 2018.
The standards call for commercial trucks to reduce by up to 20 percent fuel consumption and pollution emissions, beginning with 2014 models. Heavy-duty pickups and vans, a separate class of vehicles, will need to curb fuel use and emissions to achieve up to a 15 percent reduction by 2018. So-called "vocational vehicles," such as garbage trucks or fire engines, will have to cut emissions and fuel use by about 10 percent by 2018.
The White House touted the fact that truck manufacturers and many in the trucking industry support the new standards, just as it noted auto manufacturers' backing for the fuel efficiency standards for light vehicles, announced last month.
"While we were working to improve the efficiency of cars and light-duty trucks, something interesting happened," President Obama said in a statement Tuesday at the unveiling of the new standards. "We started getting letters asking that we do the same for medium- and heavy-duty trucks. They were from the people who build, buy, and drive these trucks. And today, I'm proud to have the support of these companies as we announce the first-ever national policy to increase fuel efficiency and decrease greenhouse gas pollution from medium- and heavy-duty trucks."
---
Follow Stories Like This
Get the Monitor stories you care about delivered to your inbox.